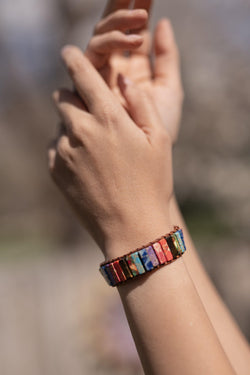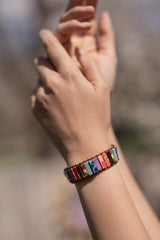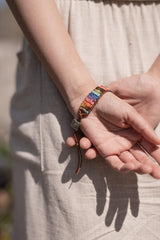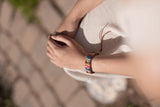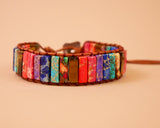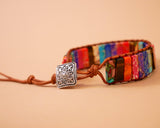 7 Chakra Bracelet Wrap - Natural Stone Lucky Bracelet - Rainbow Pride Bracelet - Stone Tube Bracelet Wrap - Supernatural Jewelry - Grounding
This multicolored bracelet represents the colors of chakras. From light to dark, every evening, as the sky begins to darken, remember to thank our Sun for giving us the strength and warmth of his rays.
This Chakra Energy Bracelet is made with multicolored natural stones and is the perfect accessory for all humanists and free-spirited. 
Single stranded bracelet
Rectangular Stones
Closure: Square pendant with two adjustable sizes
Material: Natural Stone
We offer free shipping on all purchases greater than $40.00. Free shipping will automatically be applied to all qualifying orders.
All purchases will be shipped within 1-2 business days from Salt Lake City, UT. Shipping within the US will be through USPS First Class or Priority (1-8 business days) or UPS Ground (1-5 business days).
We have a hassle free return policy! Any unused and unwashed product may be returned within 60 days of purchase for a full refund. There is no shipping, restocking, or repackaging fee. Our complete return policy can be found here.
We want to make purchasing online be as stress free as possible. Please contact us at customerservice@purechakra.com if you have any questions or need to start a return.