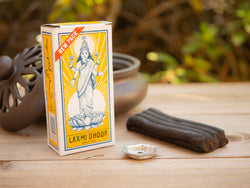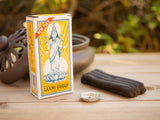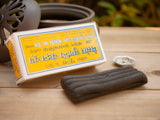 Laxmi Dhoop Frankincense Incense
This Laxmi Dhoop has been in production since 1934. Unique in that it does not contain a bamboo core, this incense is easy to burn with the included metal stand. When burning, it produces a very concentrated scent that is both woody and floral. 
If you're new to burning incense or just interested in learning more about incense, check out our Complete Guide To Buying & Burning Incense blog post. We review the different types of incense and incense holders.

Scent: Frankincense

Uses:

Improve anxiety, calm the mind, sleep

Stick Size: 13"
Packaging: 8 sticks per pack
Origin: Handmade in India
What is Dhoop Incense? Dhoop is similar to solid stick incense in that it does not contain a bamboo core. The difference though depends on the shape the incense mixture is molded into. It can be formed into short rods, cones, coils, or long solid stick incense. Depending on their shape they may be referred to as dhoop, cone incense, solid stick incense, Tibetan incense, coil incense, and so on.
We offer free shipping on all purchases greater than $40.00. Free shipping will automatically be applied to all qualifying orders.
All purchases will be shipped within 1-2 business days from Salt Lake City, UT. Shipping within the US will be through USPS First Class or Priority (1-8 business days) or UPS Ground (1-5 business days).
We have a hassle free return policy! Any unused and unwashed product may be returned within 60 days of purchase for a full refund. There is no shipping, restocking, or repackaging fee. Our complete return policy can be found here.
We want to make purchasing online be as stress free as possible. Please contact us at customerservice@purechakra.com if you have any questions or need to start a return.