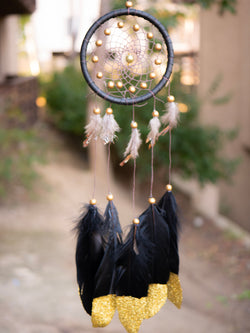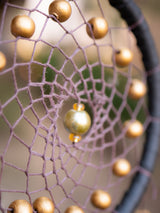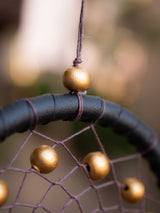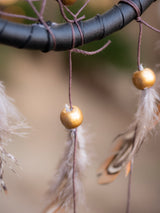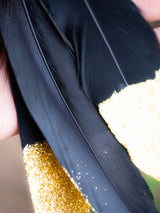 Catori Dark Gray American Dreamcatcher With Gold Beads and Black Feathers & Golden Tips
Used as protective charms, dreamcatchers allow good ideas and dreams to float down to the person below, while catching the bad ideas and dreams and destroying them with the rays of the sun. Our Catori Dreamcatcher is decorated with gold beads and black feathers with golden tips, and making it a fun and beautiful piece for any home or office. In addition to using it as a dreamcatcher, it can be used to harvest ideas and increase creativity. 

If you love dreamcatchers and are interested in learning more them, check out the article Deciphering Dreamcatchers: Their Legends and Meanings.
Uses: Protective Charm, Increase Creativity
Material: Satin thread, iron ring, feathers, & beads

Size: 4.3 inch hoop, total length 17.7 inch
We offer free shipping on all purchases greater than $40.00. Free shipping will automatically be applied to all qualifying orders.
All purchases will be shipped within 1-2 business days from Salt Lake City, UT. Shipping within the US will be through USPS First Class or Priority (1-8 business days) or UPS Ground (1-5 business days).
We have a hassle free return policy! Any unused and unwashed product may be returned within 60 days of purchase for a full refund. There is no shipping, restocking, or repackaging fee. Our complete return policy can be found here.
We want to make purchasing online be as stress free as possible. Please contact us at customerservice@purechakra.com if you have any questions or need to start a return.