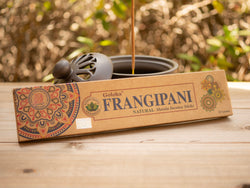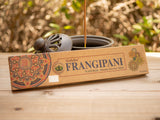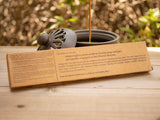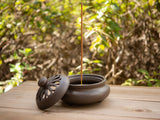 Goloka Organika Frangipani Masala Incense Sticks
Goloka Organika Frangipani is hand rolled in India and made with organic and natural ingredients. This incense has a gardenia-like scent that is soft, peachy, and fruity. Frangipani evokes deep internal cleansing that refreshes the body, mind and soul. It is believed to help sedate the mind, uplift the inner spirit, and promote self-esteem. 

If you are new to burning incense or just interested in learning more about incense, check out our Complete Guide To Buying & Burning Incense blog post. We review the different types of incense and incense holders.
Scent: Frangipani
Type: Masala Incense Sticks
Burn Time: Approx. 30 Minutes
Stick Size: 8"
Packaging: 12-14 sticks per pack
Handmade 

in India
What are Incense? Incense are made from organic material that release a fragrance when burned. Incense have been used for thousands of years starting with Egyptians who used them for rituals, warding off evil spirits, repelling insects, and simply to cover up bad odors. Nowadays you will find incense used in meditation, in homes for their calming affects, and in stores to set a certain ambiance. They come in different shapes, colors, scents, binding material, and some require different methods to burn.
We offer free shipping on all purchases greater than $40.00. Free shipping will automatically be applied to all qualifying orders.
All purchases will be shipped within 1-2 business days from Salt Lake City, UT. Shipping within the US will be through USPS First Class or Priority (1-8 business days) or UPS Ground (1-5 business days).
We have a hassle free return policy! Any unused and unwashed product may be returned within 60 days of purchase for a full refund. There is no shipping, restocking, or repackaging fee. Our complete return policy can be found here.
We want to make purchasing online be as stress free as possible. Please contact us at customerservice@purechakra.com if you have any questions or need to start a return.