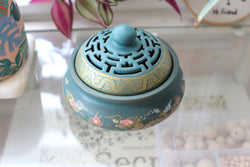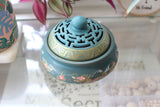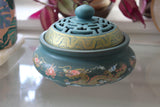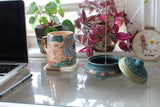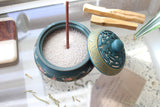 Atman Teal Round Ceramic Painted Incense Bowl
Our Atman round incense bowl in blue floral and geometric designs on the lid and base. The bowl is meant for most types of incense, such as sticks, cones, and rope. The black fabric at the bottom is a heat resistant fabric allowing incense to be burned directly on the fabric. You can also add sand to the base in place of the fabric which will allow you to hold incense sticks in the burner as well. Find your place of happiness with this elegant incense bowl.

If you're new to burning smudges or just interested in learning more about incense and smudges, check out our Complete Guide to Buying & Burning Incense blog post. We review the different types of incense and incense holders.
Design: Geometric & Floral Design

Uses: Cone incense, rope incense, stick incense

Color: Teal
Material: Ceramic
Size: 4.5" diameter x 3" tall

We offer free shipping on all purchases greater than $40.00. Free shipping will automatically be applied to all qualifying orders.
All purchases will be shipped within 1-2 business days from Salt Lake City, UT. Shipping within the US will be through USPS First Class or Priority (1-8 business days) or UPS Ground (1-5 business days).
We have a hassle free return policy! Any unused and unwashed product may be returned within 60 days of purchase for a full refund. There is no shipping, restocking, or repackaging fee. Our complete return policy can be found here.
We want to make purchasing online be as stress free as possible. Please contact us at customerservice@purechakra.com if you have any questions or need to start a return.