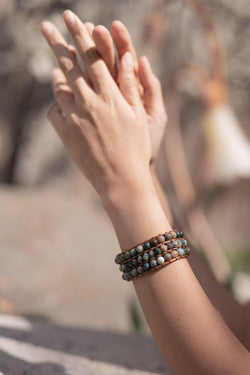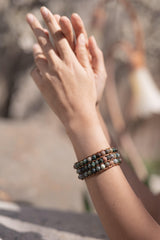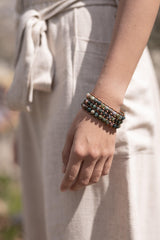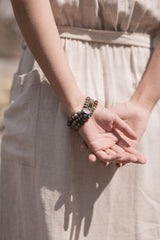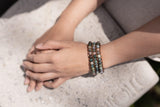 Indian Agate Healing Stone Bracelet Spiritual Protection Inspirational Grounding Anti Anxiety Natural Stone Lucky Bracelet Bracelet Wrap
Looking to accessorize your everyday life? This bracelet is just what you need to express your inner self. Live Hippie. Live Free.
Indian Agate is an excellent stone for rebalancing and harmonizing the body, mind, and spirit. It cleanses and stabilizes the aura, while eliminating and transforming negative energy. Agate is believed to enhance mental function, improve concentration, perception and analytical abilities. Its soothing and calming qualities, leads to healing spiritual anger and tension tension, by creating a sense of security and safety.
Triple stranded bracelet

Closure: Button clasp with the Tree of Life
Material: Natural Stone
We offer free shipping on all purchases greater than $40.00. Free shipping will automatically be applied to all qualifying orders.
All purchases will be shipped within 1-2 business days from Salt Lake City, UT. Shipping within the US will be through USPS First Class or Priority (1-8 business days) or UPS Ground (1-5 business days).
We have a hassle free return policy! Any unused and unwashed product may be returned within 60 days of purchase for a full refund. There is no shipping, restocking, or repackaging fee. Our complete return policy can be found here.
We want to make purchasing online be as stress free as possible. Please contact us at customerservice@purechakra.com if you have any questions or need to start a return.