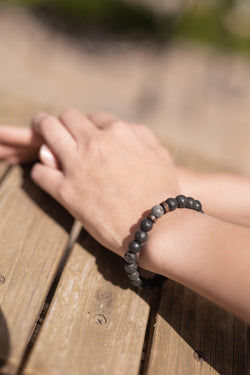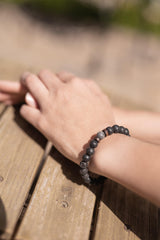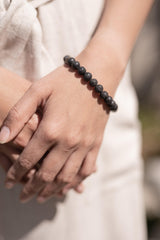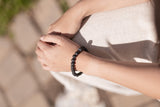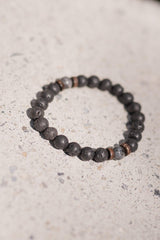 Healing Lava Stone Bracelet with Polished Stone - Natural Gemstone Meditation Balance Bracelet Energy Protection Inner Peace Bracelet
Forged by the fires of the Earth, the lava stones of our Sparrow Bracelet represent our close bond to Gaia and the children she cares for. This bracelet can be worn stacked with other bracelets or worn alone, making it a great accessory to have on hand when wanting to express your inner and true self. Great for both men and women!

Lava stones are considered a grounding stone that strengthen our connection to Mother Earth. It provides us strength and courage, allowing us stability during times of change. As a calming stone, it is very useful in dispelling anger. Lava stones may also assist with emotional healing by calming intense energy. Last, lava stones are believed to be helpful with anxiety.
Single stranded bracelet
Spherical beads
Material: Lava Stone, Polished Black Stone, Wood

We offer free shipping on all purchases greater than $40.00. Free shipping will automatically be applied to all qualifying orders.
All purchases will be shipped within 1-2 business days from Salt Lake City, UT. Shipping within the US will be through USPS First Class or Priority (1-8 business days) or UPS Ground (1-5 business days).
We have a hassle free return policy! Any unused and unwashed product may be returned within 60 days of purchase for a full refund. There is no shipping, restocking, or repackaging fee. Our complete return policy can be found here.
We want to make purchasing online be as stress free as possible. Please contact us at customerservice@purechakra.com if you have any questions or need to start a return.