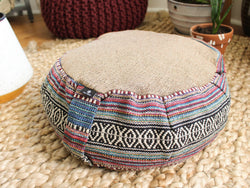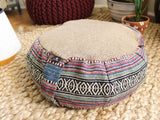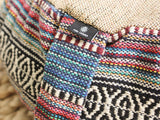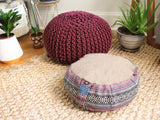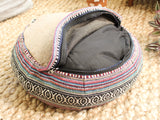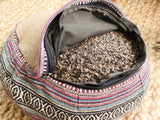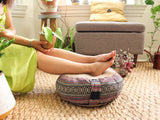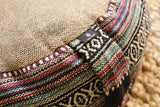 Inner Chakra 18" Brown Round Buckwheat Zafu Cushion
The Pure Chakra - Inner Chakra Zafu cushion was designed to help you achieve pure relaxation and focus. The 18" cushion is the perfect size for comfort, regardless of your shape or weight. The cushion features a traditional Indian pattern and is made from 100% biodegradable jute. Jute provides significantly more durability and is more sustainable than cushions made from cotton or polyester. Imagine putting all your weight on something thousands of times, you need it durable! Our cushions come with 8.5 pounds of buckwheat hulls grown in the US. You can easily add or remove the buckwheat depending on your preference. Use the cushion on the ground when meditating or place it on an uncomfortable computer chair. It's time you found your Inner Chakra.
What to learn more about these meditation cushions? Be sure to check out our Complete Guide to Zafu Cushions here.
Traditional Indian pattern

Easy to carry handle
Size: 18" wide and 6-7" tall depending on fill

Outer and inner covering are handmade in India
Filled with Buckwheat Hulls grown and processed in the US
Material: Jute (outer), Cotton (inner)

Weight: 8.5 lbs
We offer free shipping on all purchases greater than $40.00. Free shipping will automatically be applied to all qualifying orders.
All purchases will be shipped within 1-2 business days from Salt Lake City, UT. Shipping within the US will be through USPS First Class or Priority (1-8 business days) or UPS Ground (1-5 business days).
We have a hassle free return policy! Any unused and unwashed product may be returned within 60 days of purchase for a full refund. There is no shipping, restocking, or repackaging fee. Our complete return policy can be found here.
We want to make purchasing online be as stress free as possible. Please contact us at customerservice@purechakra.com if you have any questions or need to start a return.
Customer Reviews
07/01/2023
- H.

United States
Love it!
I love this little cushion, it's the perfect size and density. Thank you!
05/02/2023
- B.

United States
Mediation Pillow/Cushion
Fantastic quality and has really helped me to increase my ability to meditate with comfort.
02/28/2023
- L.

United States
Haven't received it yet
Haven't received it yet
01/13/2023
- A.

United States
Great product
Got this for my husband for Christmas. He absolutely loves it. Great quality and craftsmanship
10/04/2021
Adam T.

United States
Beautiful cushions and speedy delivery
Love these cushions, they look and feel well made and the designs beautiful. Delivery was smooth as well!
02/09/2021
Ginny P.

United States
Love it!
Exceeded my expectations!
01/29/2021
Angelina H.

United States
it's great! i'd only say it seems to have less buckwheat inside than advertised.
09/16/2020
Kristen A.

United States
Love it!
Worth it and arrived quickly
09/16/2020
Bridget A.

United States
Better than the photos
I've had this floor pillow for about a week and I love using it for meditation. It's the perfect size, it's well made and most importantly, it's super comfortable. Recommending to my friends