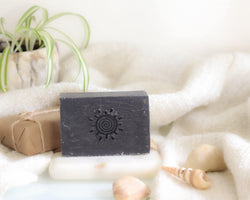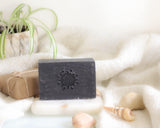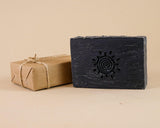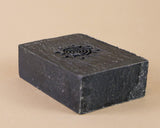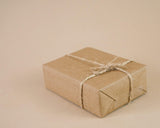 Into The Woods Charcoal Soap - Organic Soap Bar - Vegan Soap Bar - Handmade Soap Bar - Essential Oil Soap
Beautiful, raw, organic. Handcrafted from organic ingredients, our soap bars are gentle on all skin types. Made with a blend of organic oils, these nourish and protect your skin unlike liquid detergents which strip the skin it's natural oils. Safe to use as a body or face wash our bars leave you feeling moist rather than dry after a shower! Cade, Fir Needle, and Cedarwood essential oils, make for a perfect "campfire in the woods" type of scent. Activated charcoal is great for people with extra oily skin and helps to naturally exfoliate.

Made from 85% organic ingredients - the most you can do
Vegan friendly made with only plant based products
Scent: Cedarwood & Fir / Forest

Oil Blend: Organic Sustainable Palm Oil, Organic Coconut Oil, Organic Sunflower Oil, Organic Extra Virgin Olive Oil
Essential Oils: Fir Needle Essential Oil, Cedarwood Essential Oil, Cade Essential Oil

Special Blend: Activated Charcoal
We offer free shipping on all purchases greater than $40.00. Free shipping will automatically be applied to all qualifying orders.
All purchases will be shipped within 1-2 business days from Salt Lake City, UT. Shipping within the US will be through USPS First Class or Priority (1-8 business days) or UPS Ground (1-5 business days).
We have a hassle free return policy! Any unused and unwashed product may be returned within 60 days of purchase for a full refund. There is no shipping, restocking, or repackaging fee. Our complete return policy can be found here.
We want to make purchasing online be as stress free as possible. Please contact us at customerservice@purechakra.com if you have any questions or need to start a return.