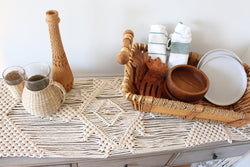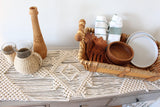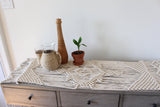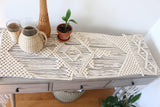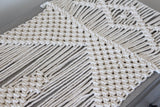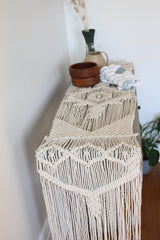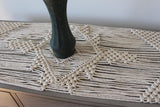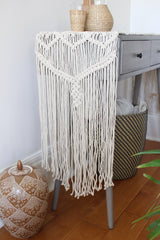 Inspirational 90" Antique White Long Macrame Table Runner - Wedding Table Runner - Farmhouse Table Runner
Macrames were made dating back to the Babylonians and Assyrians. Macrames gained popularity during the 60's and 70's and have made a comeback thanks to their intricate patterns that requires significant skill and time to create.
Our Inspirational Macrame Table Runner is 90" long and may fit both rectangular and round tables. Place on tables of at least 5-7 feet long. Looks amazing on all types of tables including farmhouse tables, side tables, kitchen tables, computer desks, and more. Give your home or office some color and texture with this gorgeous macrame.
Looks great on tables between 5-7 feet in length
Color: Antique White
Size: 13 inches x 90 inches
Material: Cotton
Handmade in India
We offer free shipping on all purchases greater than $40.00. Free shipping will automatically be applied to all qualifying orders.
All purchases will be shipped within 1-2 business days from Salt Lake City, UT. Shipping within the US will be through USPS First Class or Priority (1-8 business days) or UPS Ground (1-5 business days).
We have a hassle free return policy! Any unused and unwashed product may be returned within 60 days of purchase for a full refund. There is no shipping, restocking, or repackaging fee. Our complete return policy can be found here.
We want to make purchasing online be as stress free as possible. Please contact us at customerservice@purechakra.com if you have any questions or need to start a return.