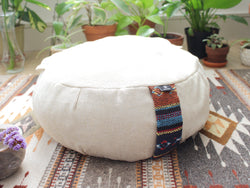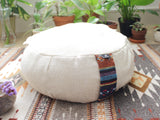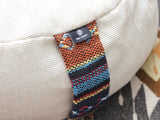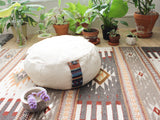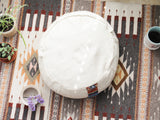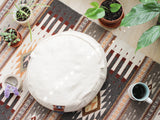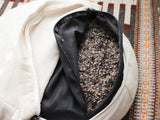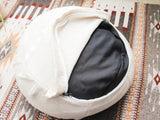 Nirvana 18" Chiffon White Round Buckwheat Zafu Cushion
The Pure Chakra - Nirvana Zafu cushion was designed to help you achieve pure relaxation and focus. The 18" cushion is the perfect size for comfort, regardless of your shape or weight. The cushion is a simple, chiffon white is made from 100% biodegradable jute. Jute provides significantly more durability and is more sustainable than cushions made from cotton or polyester. Imagine putting all your weight on something thousands of times, you need it durable! Our cushions come with 8.5 pounds of buckwheat hulls grown in the US. You can easily add or remove the buckwheat depending on your preference. Use the cushion on the ground when meditating or place it on an uncomfortable computer chair. It's time you found your inner chakra.
What to learn more about these meditation cushions? Be sure to check out our Complete Guide to Zafu Cushions here.
Chiffon white

Easy to carry handle
Size: 18" wide and 6-7" tall depending on fill

Outer and inner covering are handmade in India
Filled with Buckwheat Hulls grown and processed in the US
Material: Jute (outer), Cotton (inner)

Weight: 8.5 lbs
We offer free shipping on all purchases greater than $40.00. Free shipping will automatically be applied to all qualifying orders.
All purchases will be shipped within 1-2 business days from Salt Lake City, UT. Shipping within the US will be through USPS First Class or Priority (1-8 business days) or UPS Ground (1-5 business days).
We have a hassle free return policy! Any unused and unwashed product may be returned within 60 days of purchase for a full refund. There is no shipping, restocking, or repackaging fee. Our complete return policy can be found here.
We want to make purchasing online be as stress free as possible. Please contact us at customerservice@purechakra.com if you have any questions or need to start a return.
Customer Reviews
03/17/2023
- J.

United States
Cute and comfortable!
I'm very happy with this cushion! The owner was good with communication, the product shipped quickly, and it's exactly as I would have hoped! It feels great to sit on!
01/13/2023
- L.

United States
Got it as a Christmas gift
I have one of my own and absolutely love it, so I got one for someone as a gift. It was beautiful in person and she said it was her favorite gift! Very satisfied with these zafus :)
10/07/2022
- C.

United States
Love love love
My sister even wants one for Christmas! Will definitely be ordering another
08/01/2022
William G.

United States
Nice Cushion!
Overall very comfortable and of high quality. Has stood up to my toddler so far with no noticeable issues or wear. This will easily withstand normal daily use for years. Worth it over a less expensive cushion.
08/18/2021
Ashley B.

United States
Love it!
Love this! The strap on it is so cute. The color is a bit more of a natural color than what is pictured which looks white to me. Which is fine, just know in purchasing it's more natural/light tan. Love it though, I wish they sold a matching zabuton cushion, that would make it perfect :)
03/01/2021
Julie F.

United States
Comfy
Cushion molds to your bum and feels great. Very satisfied.
01/27/2021
Robert A.

United States
Love my Zafu!
I was looking around the internet for zafu's and they all kind of looked similar, none of the styles or materials really reached out to me (they all had a mass-produced look to them without any personality.) I saw the ones on Pure Chakra and I knew they were exactly what I was looking for. I just got delivered this zafu about an hour ago. I've never had a meditation pillow before but it's been hard for me to meditate for longer periods of time due to discomfort and I've been wanting to meditate longer than just 15 minutes. So, I tried this zafu out immediately once I received it and it was a wonderful meditative experience. I've never felt more supported and comfortable. I was initially just going to use this for meditation but... I put this zafu on my computer chair and it has made a world of difference, I feel really comfortable as I sit here and type this review. My sitting posture is so much better too and it's very breathable while sitting on it. I can tell me and this zafu are going to be pretty inseparable. I definitely recommend this. For meditation, of course. And if you use a computer or sit in an office chair for extended periods of time, this is easily the best cushion you can invest in that'll turn a cheap office chair into one that feels like a luxury chair.
11/02/2020
Allison F.

United States
Zafu
This meditation pillow is very well-made, and the buckwheat shills provide a comfortable sitting for my meditation. So happy I purchased this!
07/19/2020
Toni l.

United States
Great
It came in a timely manner and the pillow is absolutely beautiful and exactly what I expected