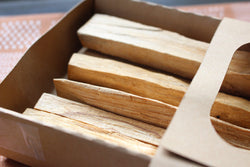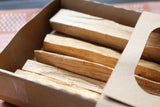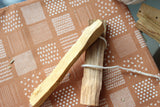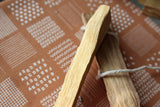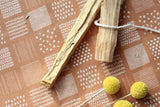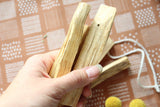 Palo Santo Wood Smudge Sticks - Set of 5
If you love the smell of campfires and the great outdoors, Pure Chakra's Palo Santo Wood Smudge Sticks is the perfect match for you. Palo Santo produces a gentle, woody, and homey scent, and is known for its cleansing and healing properties that are believed to enhance creativity. Burning smudges requires attention to safety. Consider purchasing one of our smudges bowels, which provides a large base to prevent fires.

Want to learn more about smudges? Be sure to check out our block post on What is Smudging and the Different Types of Smudges.
Scent: Palo

Santo

Wood

Uses: Healing, cleansing, creativity


Package: Set of 3 smudges

Origin: Handmade in the USA
We offer free shipping on all purchases greater than $40.00. Free shipping will automatically be applied to all qualifying orders.
All purchases will be shipped within 1-2 business days from Salt Lake City, UT. Shipping within the US will be through USPS First Class or Priority (1-8 business days) or UPS Ground (1-5 business days).
We have a hassle free return policy! Any unused and unwashed product may be returned within 60 days of purchase for a full refund. There is no shipping, restocking, or repackaging fee. Our complete return policy can be found here.
We want to make purchasing online be as stress free as possible. Please contact us at customerservice@purechakra.com if you have any questions or need to start a return.