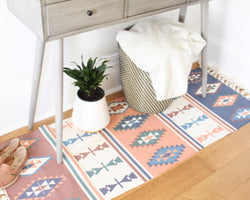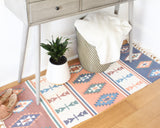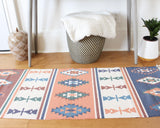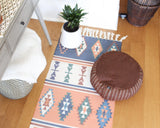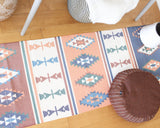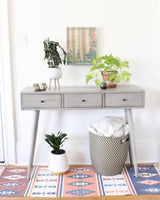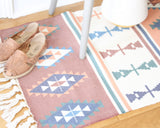 Pharaoh Egyptian Style Braided Rug - Retro Rug - Rag Rug - Floor Covering - Spiritual Rug
Our homes are the happy place we live, love, and laugh. Our Pharaoh rug has cute braided ends with obelisk styled patterns works great as a accent rug in any room. Place it in a your home or dorms entry way, kitchen, or to add some color to your bedroom. 
Style: Patterned Rug

Material: Cotton, Linen
Size: 60cm x 150cm
We offer free shipping on all purchases greater than $40.00. Free shipping will automatically be applied to all qualifying orders.
All purchases will be shipped within 1-2 business days from Salt Lake City, UT. Shipping within the US will be through USPS First Class or Priority (1-8 business days) or UPS Ground (1-5 business days).
We have a hassle free return policy! Any unused and unwashed product may be returned within 60 days of purchase for a full refund. There is no shipping, restocking, or repackaging fee. Our complete return policy can be found here.
We want to make purchasing online be as stress free as possible. Please contact us at customerservice@purechakra.com if you have any questions or need to start a return.
Customer Reviews
Excellent and versatile!
I love the design and motif of this little rug! It's colorful and has a unique pattern. It's even interesting to walk over barefooted. Good price too!