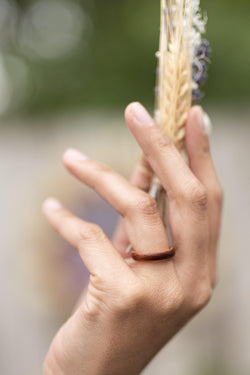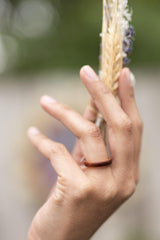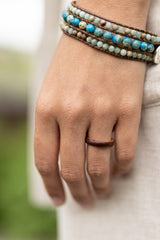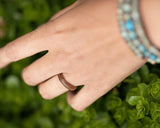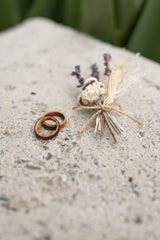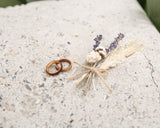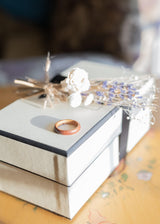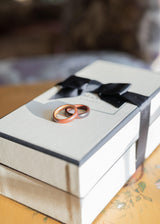 Birk Double Layered Olive Wood & Rosewood Womens Wood Ring - Travel Ring - Wood Band - Fidget Ring
Our Birk ring is made of two separate layers of olive wood on the exterior and rosewood on the interior. Olive wood is valued for its density and rich color. The olive wood tree is produces olives with very little water! Rosewood, given the name due to its sweet scent, is dense and heavy.  By combining the two woods and creating soft edges we wanted to create a ring that was durable while giving a gentle and soft look and feel.

The ring is also double coated with a natural resin to protect it from rot or water damage while bringing out the color of the wood. Our Birk ring is truly a one of a kind ring and can be used for all types of purposes: as a wedding ring, promise ring, engagement ring, friendship ring, and more.

Materials: Olive Wood Exterior & Rosewood Interior

Finish: Double layered natural resin

Size: Standard Sizing

Care: Safe to wash your hands but we removal prior to showering
We offer free shipping on all purchases greater than $40.00. Free shipping will automatically be applied to all qualifying orders.
All purchases will be shipped within 1-2 business days from Salt Lake City, UT. Shipping within the US will be through USPS First Class or Priority (1-8 business days) or UPS Ground (1-5 business days).
We have a hassle free return policy! Any unused and unwashed product may be returned within 60 days of purchase for a full refund. There is no shipping, restocking, or repackaging fee. Our complete return policy can be found here.
We want to make purchasing online be as stress free as possible. Please contact us at customerservice@purechakra.com if you have any questions or need to start a return.