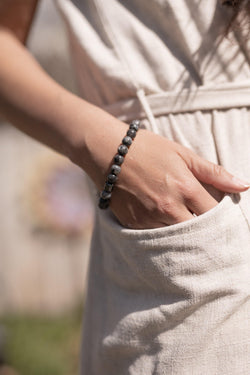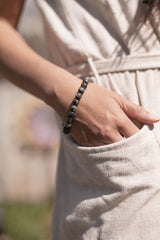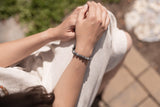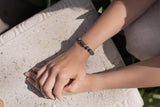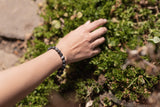 Raven Polished Black & Gray Stone Natural Stone Lucky Bracelet - Stone Wrap - Supernatural Jewelry
Our Raven Bracelet symbolizes the human connection to our Earth. Made from natural stone, this bracelet is easily stackable or worn by itself with a metal bead to focus energy. Be good to our World, we're all in this together!

Single stranded bracelet

Spherical beads
Material: Natural Stone & Metal Bead

We offer free shipping on all purchases greater than $40.00. Free shipping will automatically be applied to all qualifying orders.
All purchases will be shipped within 1-2 business days from Salt Lake City, UT. Shipping within the US will be through USPS First Class or Priority (1-8 business days) or UPS Ground (1-5 business days).
We have a hassle free return policy! Any unused and unwashed product may be returned within 60 days of purchase for a full refund. There is no shipping, restocking, or repackaging fee. Our complete return policy can be found here.
We want to make purchasing online be as stress free as possible. Please contact us at customerservice@purechakra.com if you have any questions or need to start a return.