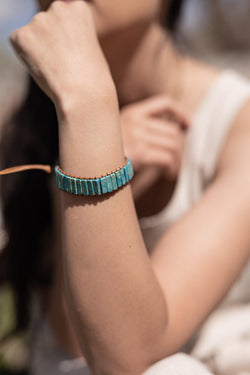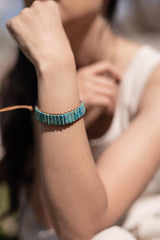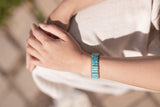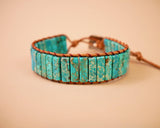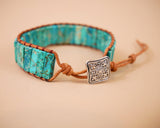 Serenity Natural Turquoise Natural Stone Lucky Bracelet - Stone Wrap - Cottagecore Bracelet
Our Serenity Bracelet represents calmness and peace. Designed with rectangular turquoise stone beads, this bracelet encourages the soul to destress and be free. The simple design of this bracelet also makes it one of our easiest accessories to add to any outfit.
Turquoise is considered a protective and stabilizing stone. It helps by increasing communication and intuition and is used to balance the chakras, aid in meditation, and bring inner calmness. Turquoise is both a Throat and Heart Chakra opener. Wear this beautiful stone to enhance creativity and divine powers.

This uniquely blue stone has powers that are believed to help heal the mind, body, and soul. It is often seen as a good luck charm, which helps balance your emotions by helping you find spiritual grounding. When it comes to health, it is said to benefit the respiratory, skeletal, and immune systems.

Single stranded bracelet
Rectangular Stones
Closure: Square pendant with two adjustable sizes
Material: Turquoise Stone
We offer free shipping on all purchases greater than $40.00. Free shipping will automatically be applied to all qualifying orders.
All purchases will be shipped within 1-2 business days from Salt Lake City, UT. Shipping within the US will be through USPS First Class or Priority (1-8 business days) or UPS Ground (1-5 business days).
We have a hassle free return policy! Any unused and unwashed product may be returned within 60 days of purchase for a full refund. There is no shipping, restocking, or repackaging fee. Our complete return policy can be found here.
We want to make purchasing online be as stress free as possible. Please contact us at customerservice@purechakra.com if you have any questions or need to start a return.