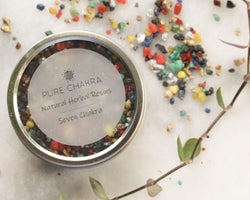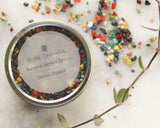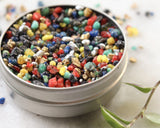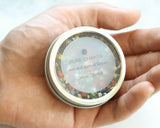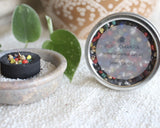 Pure Chakra Seven Chakra Blend Incense Resins
Burning resins is a fun and easy way to enjoy the unique scents of the world passed down through many generations. Seven Chakra is a blend of seven different resins and incense perfect for balancing the different energies within the body and for healing. Our resins come in a 2 oz metal tin for easy storage and use.
To burn resins start in a well ventilated room or burn outside - resins can produce quite a strong scent and quite a bit of smoke. In a resin burner, simply place 3-4 bits of resins onto a special resin charcoal. Light the charcoal on one edge. The charcoal should quickly burn throughout producing a steady source of heat and burn the resin releasing its scent. Be sure to check out our incense burners and incense section for resin burning supplies!
Scent: Seven Chakra (benzoin, frankincense, myrrh, cinnamon, sage, sandalwood and dragon blood resin)
Weight: Approximately 2 oz
Uses: balance and healing
We offer free shipping on all purchases greater than $40.00. Free shipping will automatically be applied to all qualifying orders.
All purchases will be shipped within 1-2 business days from Salt Lake City, UT. Shipping within the US will be through USPS First Class or Priority (1-8 business days) or UPS Ground (1-5 business days).
We have a hassle free return policy! Any unused and unwashed product may be returned within 60 days of purchase for a full refund. There is no shipping, restocking, or repackaging fee. Our complete return policy can be found here.
We want to make purchasing online be as stress free as possible. Please contact us at customerservice@purechakra.com if you have any questions or need to start a return.