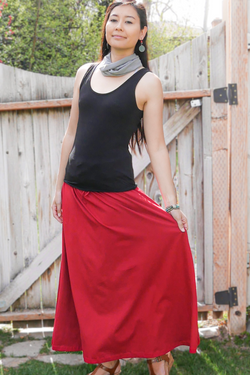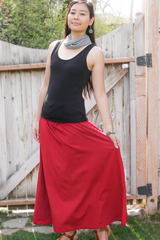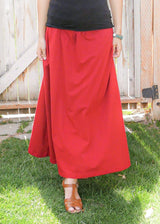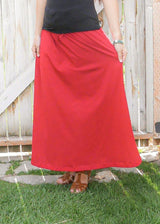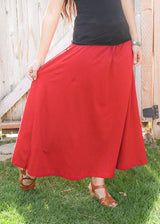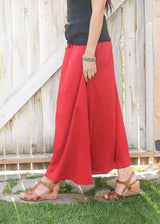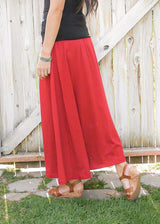 Shanta Bold Red Long & Plain Maxi Skirt - Sustainable Cotton Fabric - Peasant Style Skirt
The spring blossoms will soon be here, but are you ready to dance amongst your friends? Our Shanta Skirt's simple and plain design makes it versatile for both casual and professional wear. Our bold red color helps project confidence and independence. Our skirt was custom designed and made with organic cotton and lycra and has a more weighted and modest feel.
Maxi Skirt

Tiered with high waist and ties

Size & Fit: Model is 5'5" and wearing a size S



Materials: 95% Organic Cotton, 5% Lycra

Sizing Chart
Small: Waist 28" Length 37"
Small: Waist 30" Length 38"
Small: Waist 32" Length 39"
Small: Waist 34" Length 40"
We offer free shipping on all purchases greater than $40.00. Free shipping will automatically be applied to all qualifying orders.
All purchases will be shipped within 1-2 business days from Salt Lake City, UT. Shipping within the US will be through USPS First Class or Priority (1-8 business days) or UPS Ground (1-5 business days).
We have a hassle free return policy! Any unused and unwashed product may be returned within 60 days of purchase for a full refund. There is no shipping, restocking, or repackaging fee. Our complete return policy can be found here.
We want to make purchasing online be as stress free as possible. Please contact us at customerservice@purechakra.com if you have any questions or need to start a return.