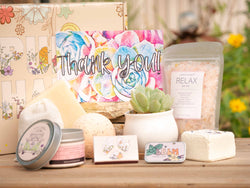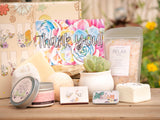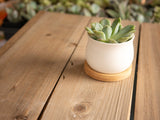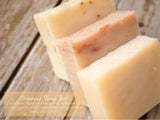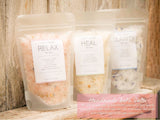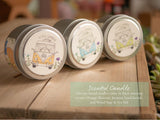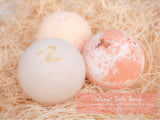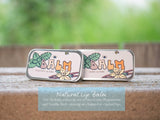 Thank You Gift Box. Care Package For Her. Care Package Friend. Succulent Gift Box. Nurse Gift Box. Plant Mom Gift. Self Care Gift Box.
All gift boxes receive free shipping via USPS Priority Mail (1-4 business days).
A wonderful little gift box to show someone how thankful you are. Whether it be a nurse who helped take care of you, a friend who went the extra mile, or a loved one, they will feel truly appreciated with this one of a kind gift box.
Every Gift Box in this series includes the following:
1. Live succulent with Ceramic Pot and Bamboo Tray
2. Scented Soy Candle 4oz 
3. Matching box of Matches 
4. Sachet of dried Lavender 
5. Organic Soap Bar 4-5oz
6. Bath Salts rich in minerals and made with Essential Oils (Relax, Heal or Clarity scents)
7. Bath Bomb (Pomegranate Pear, Sweet Roses, Vanilla Oatmeal)
8. Vanilla or Peppermint Lip Balm
9. Shower Steamer (Lavender, Rose, Breathe Again, Citrus Mint)
10. Personalized Thank You Card
Looking to make your gift a bit more special? You can find more add-ons and accessories in our shop.
Don't forget to double check the shipping address and include a gift message!
We offer free shipping on all purchases greater than $40.00. Free shipping will automatically be applied to all qualifying orders.
All purchases will be shipped within 1-2 business days from Salt Lake City, UT. Shipping within the US will be through USPS First Class or Priority (1-8 business days) or UPS Ground (1-5 business days).
We have a hassle free return policy! Any unused and unwashed product may be returned within 60 days of purchase for a full refund. There is no shipping, restocking, or repackaging fee. Our complete return policy can be found here.
We want to make purchasing online be as stress free as possible. Please contact us at customerservice@purechakra.com if you have any questions or need to start a return.
Customer Reviews
Pure Shakra Gifts
this was my third purchase as as gift after getting one mailed to me. It is the best, convenient gift to send to someone. reasonable price, personalized. I love it. everyone that has received one is thrilled. I do wish there was way to sample the other 2 scents. I buy the same one every time to be on the safe side. My co-worker ordered one for her boss just this week on my recommendation. have a great holiday!!