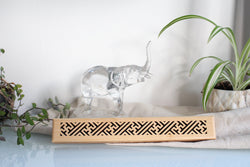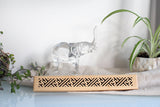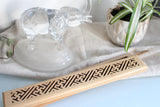 Mai Natural Bamboo Stick Incense Coffin Burner Box
Our Mai Bamboo Box Incense Burner offers a unique patterned lid design to make incense burning safe and beautiful. Uniquely designed to burn incense laying flat and when an incense is burned, it releases a soft, gentle stream of smoke, which passes through the crevices of the box creating a calming effect. There is also a heat resistant black fabric on the inside, which prevents damage to the bamboo and helps to oxygenate the incense as it burns. Slim, elegant, and beautifully designed; this incense holder is the perfect accent for any home or office.

If you're new to burning smudges or just interested in learning more about incense and smudges, check out our Complete Guide To Buying & Burning Incense blog post. We review the different types of incense and incense holders.
Design: Patterned, geometric
Uses: Cored incense, any sized solid stick incense, rope incense

Color: Natural Wood
Material: Bamboo, wood, heat resistant inner fabric
Size: 23.5x3.5x2.2cm
We offer free shipping on all purchases greater than $40.00. Free shipping will automatically be applied to all qualifying orders.
All purchases will be shipped within 1-2 business days from Salt Lake City, UT. Shipping within the US will be through USPS First Class or Priority (1-8 business days) or UPS Ground (1-5 business days).
We have a hassle free return policy! Any unused and unwashed product may be returned within 60 days of purchase for a full refund. There is no shipping, restocking, or repackaging fee. Our complete return policy can be found here.
We want to make purchasing online be as stress free as possible. Please contact us at customerservice@purechakra.com if you have any questions or need to start a return.